Facilities & Infrastructure
The School provides an effective learning environment that enables the child to understand the world around him by the process of exploration and self discovery. The educational environment is a unique, yet harmonious blend of academics and activities. We value an active and highly disciplined culture supported by highly qualified teaching and admin faculty. The well-equipped Science Laboratory facilitates a clearer understanding of new scientific frontiers.
Student Teacher Ratio 25:1
Fully equipped Computer Laboratories
Mathematics Labs, Language Labs, Social Studies Rooms, Science Activity Rooms, Art & Craft Rooms, Clay Modeling Rooms
Audio Visual rooms fully equipped with presentation tools and teaching aids makes learning more interesting.
The Music and Dance rooms are equipped with various instruments like synthesizers, guitars, drums, harmonium, Western classical and Indian Classical notation reading books and notation stands for budding
A recording studio for only school students recording of drama, music, pronunciation for language labs.
A spacious Auditorium with special acoustic design for sound, is the venue for various educational and cultural events.
To inculcate a spirit of healthy competition the entire school community is divided into four houses Vishwas, Shakti, Satya, Shraddha.. Various Inter-House competitions are held on a regular basis to promote the all-round development of the student.
The students have access to various new editions of books in the School Library. There are more than 3000 books, 10 each periodicals and magazines and 5 dailies to keep the students upbeat about the news around the globe, international politics, sports, education and society in an area of more than 5000 sq ft.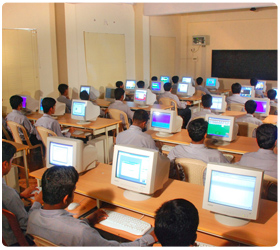 The Classrooms are supported with Educomp Smart Classes.
English Edge Language Lab
In a class full of growing minds hooked to technology, use digital technology as your teaching assistant. With the English Edge Portable Language Lab, change the way English language learning takes place at your school- both inside and outside classrooms. Use state-of-the-art tablet technology to empower your teachers and make classroom sessions more interesting, engaging and effective.
English Edge Portable Language Lab comprises a compact trolley that can house up to 40 tablets, a Wi-Fi router and a projector. The tablets, for students and the teacher, are preloaded with the English Edge software that is specially designed to complement the teaching-learning process in schools.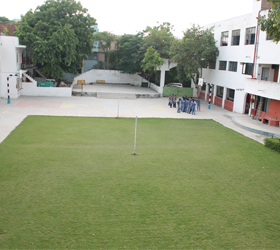 Sports/ Games activities are means of mental and physical growth. During sports we come to learn many things. We learn how to maintain mental balance in the midst of hopes and despair. It make us learn how to tackle the challenges in front of us.
Sports develop a sense of team spirit. It helps in developing mental and physical toughness. It removes tiredness and lethargy. To keep the momentum of physical fitness in all our students positive, the school has excellent sports facility. There are outdoor as well as indoor games. The school has history of participating in sports competition and training the students for National levels.
To ensure the safety of the students and staff number of measures are taken into account -
Deployment of Security Guards at every stage from gates to all corridors of the school campus
The ID Cards are issued to the students to access their info in case of emergency.
Visitors are also given temporary ID Cards and on the basis of that they are granted permission to visit the campus
Security Guards and teacher in-charges are put on duty to ensure safety of students to students while boarding the bus facility.
Campus is secured under Fire Fighting system and fire alarms
Dispersal of students is managed effectively by all departmental Heads and team.
Mock Drill are conducted time to time to train students for unforeseen circumstances
All movements of Primary students is always guarded by their class teachers.
For medical assistance an in-house MC room having a visiting doctor and nurses ,where they also maintain health record of each student.
In Acres - 1.3 Acres
In Sq. Meters - 5330 Sq.Mt.
Area of Playground in Sq. Meters - 3000 Sq.Mt.
1.8 Sq.Mt. Per Child.